Meet the Outreach Coordinators
Outreach coordinators work closely with activists throughout North America to support their activism work and engage them on PETA campaigns—whether it is planning a demonstration, brainstorming the next step in a local campaign, or acting as spokespeople for the organization. Coordinators can help you make the biggest possible impact for animals when you're ready to hit the streets to protest.
Click here to see who is the outreach coordinator for your region and contact an outreach coordinator to see where you can join a protest today!
---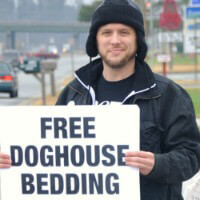 I am an activist first and foremost, so I love working with other activists to make the world a better place for animals. Read more.
---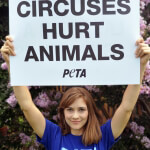 Not many people can say they are living their dream job, but I definitely am and feel grateful every day that I come to work and get to help animals. Read more.
---
The best part of my job is spending my workday collaborating with inspiring activists and colleagues and fighting for justice. Read more.
---
The best part of my job is working with such compassionate people. Everyone is so helpful and kind. Plus, my dog Emerson is able to join me in the office, which makes every day fun and exciting! Read more.
How You Can Help Animals
Join the Action Team
Sign Up for PETA Mobile Alerts
Help Animals Online