Wearing Lettuce for Earth Day
Each week, PETA's campaigners publish a new post about their lives as they travel the country, fighting for animals. This week's post was written by Matt Bruce.
July 11, 2013
San Francisco and I have had a colorful history as of late. PETA's been sending me to the Paris of the West a whole lot, for some of the most remarkable demonstrations that we have done. In September, I took our mermaids to Fisherman's Wharf. In January, I was joined by a cadre of naked people and stormed the steps of City Hall. Finally, in April for Earth Day, we landed in Union Square with the first lettuce dress this country has ever seen!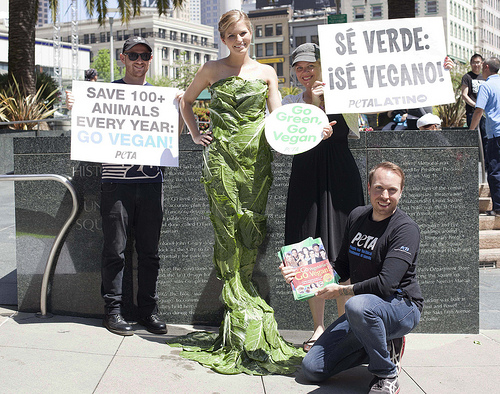 The mayhem started in Los Angeles, when I piled into a van with another animal rights activist and a photographer. We made our way up north and stormed every grocery store we could find and demanded all their collard greens. We emptied not one, not two, but five different stores of all their collard greens. You should've seen the looks we got. We filled the backseat with about six boxes of the stuff and spent the night before the demo in a hotel room separating the leaves by size and quality.
The next morning was "go" time! As soon as we arrived at Union Square, a crowd quickly gathered around us. We assembled some banner stands and hung our terrific PETA cloth over them to shield the dress that we were making, but many people were so curious that they just had to take a peek behind the curtain.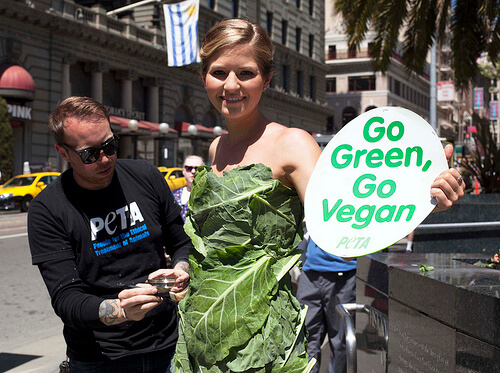 People walking by were absolutely amazed, and our volunteer, Michelle, looked terrific. I watched the expressions on people's faces change from confusion to wonder and finally to happiness. People were beaming and forming a long line to have their photos taken.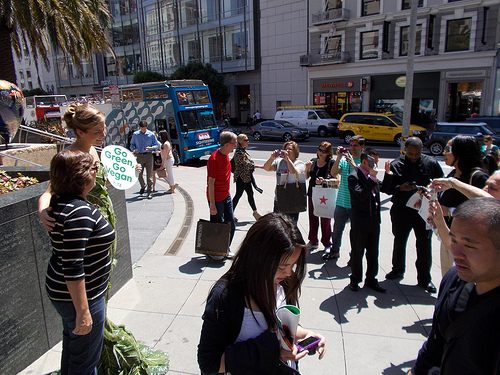 Everyone was so impressed and excited that we didn't even get out of there until an hour after we intended to leave. We handed out so many of our "Meat's Not Green" leaflets, vegetarian/vegan starter kits, and copies of our "Glass Walls" DVD that we lost count.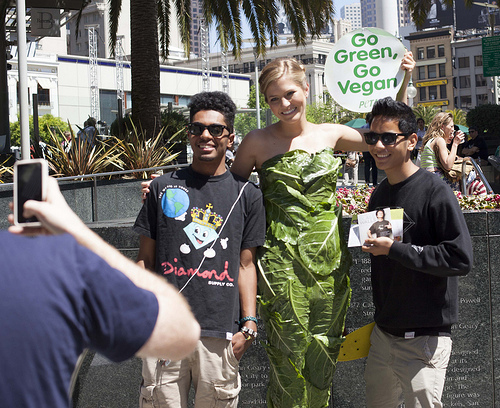 We had a captivated audience, and they all learned that the easiest, most effective way to help the planet is simply to stop eating animals.
For instance, did you know that it takes about 2,400 gallons of water to produce just 1 pound of meat? It's true. Animals raised for food take up 30 percent of the Earth's entire land surface, and as we speak, the rain forest is being leveled to create more land for farmed animals to graze. There are many other ways in which meat is destroying the planet, including soil erosion, poisoned waterways, the vast amount of grain being fed to these animals (while we have 925 million people starving on this planet), and the list goes on. Suffice it to say that the meat industry is one of the world's top polluters at every level. A lot of people we talked to told us how much of an impact this one demonstration had on them.
Going vegan—now that's how you celebrate Earth Day!
Inspired to help animals?