Emily Lavender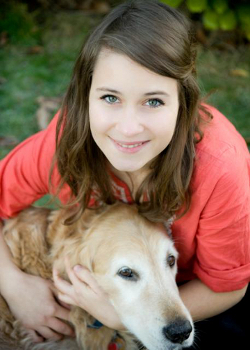 Name: Emily Lavender
Position: Campaigner
E-Mail: [email protected]
Facebook: Facebook.com/Emily.Lavender.50
Where do you work? Vancouver Island, British Columbia, Canada
Do you have companion animals? I have a rescued kitty named Alex. He was found as a starving kitten with a broken jaw and covered with mites and fleas. Other than his tilted head and his one eye that doesn't completely close, you would never know that he had such a terrible beginning—he's the biggest cuddler, and he's so cute that he turns everyone who meets him to mush.
What's the best part about your job? I love that our fun and upbeat demonstrations bring the biggest smiles to people's faces and totally make their day. They are so excited to show their friends or family the photo that they've just taken, and they go home with a leaflet about why we were there. I also get to travel to different cities across Canada—and sometimes the U.S.—and I get the chance to meet local animal activists who go out to the demonstrations. I'm always inspired by their stories and grateful to make new friends and spend time with those I've met before.
What's the hardest part about your job? Being constantly surrounded by the issues of cruelty to animals is tough, especially when new undercover investigations break. But I'm thankful that there's so much that we can do to stop it.   
Best memory at PETA: Disrupting the House of Commons on Parliament Hill in Ottawa, Canada, with two others to protest the country's commercial seal slaughter—we were all dressed as nuns with signs reading, "The Seal Hunt Is a Bad Habit," and chanted, "Stop the seal slaughter," until we completely halted proceedings and were dragged out by security, which made national news.   
What do you like to do when you're not at the office? I enjoy spending time with my family, skateboarding, snowboarding, swimming, having '80s dance parties, and playing Nintendo.
How You Can Help Animals
Join the Action Team
Sign Up for PETA Mobile Alerts
Help Animals Online