Casey Tustin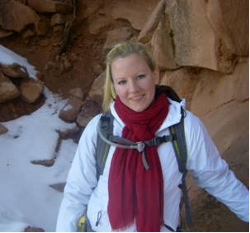 Name: Casey Tustin
Position: Action team coordinator
E-Mail: CaseyT@peta.org
Where do you work? PETA's L.A. office, the Bob Barker Building
Do you have companion animals? I have a rescued dog named Domino. He's a lovable 12-pound guy who's black and white. He loves to curl up in my lap!
What's the best part about your job? I love corresponding every day with caring activists who want to take action against cruelty and suffering. I love being part of this awesome team and helping people who want to get active for animals!
What's the hardest part about your job? An important yet difficult part of my job is being well-informed on the animal suffering taking place around the world. It's important to be conscious of animals' pain so that we can make informed, humane choices that do not exploit them.
Best memory at PETA: One of my best memories at PETA is protesting Ringling Bros. circus cruelty at the STAPLES Center in Los Angeles and witnessing a family of four turn back from going inside. They received our message with open minds and made a compassionate decision. It was so rewarding to see!
What do you like to do when you're not at the office? When I'm not in the office, I am usually volunteering at an animal shelter. I also enjoy hiking in the canyons, taking photos, and making yummy smoothies!
How You Can Help Animals
Join the Action Team
Sign Up for PETA Mobile Alerts
Help Animals Online