Adam Miller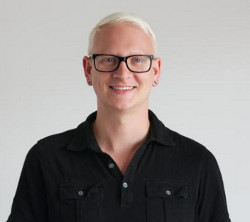 Name: Adam Miller
Position: Action Team coordinator
E-Mail: AdamM@peta.org
Facebook: Facebook.com/AdamJerk
Where do you work? PETA's L.A. office, the Bob Barker Building
Do you have companion animals? I live with two little rescued pups named Conrad and Ramona. They're both little Yorkie mixes. One of my greatest joys is watching horror movies while snuggling with them. You can see tons of photos of them on my Facebook page.
What's the best part about your job? There are so many rad parts about my job. Obviously, helping animals is number one, but I also get to work in an awesome office with wonderful coworkers who inspire me every day, and I get lots of attention from the office dogs who come in every day as well!
What's the hardest part about your job? People trying to defend cruelty to animals by posting "People Eating Tasty Animals" online. This doesn't hurt us—it's just uninspired and lazy!
Best memory at PETA: I don't think I have one specific best memory. I have so many great memories. I have made great friends, traveled all over the country (eating lots of great vegan food), and helped tons of animals!
What do you like to do when you're not at the office? My wife and I are both artists. I also curate contemporary art exhibitions and write about art, culture, and philosophy. You can check out my work at AdamDMiller.com. When I'm not doing art-related stuff or working at PETA, I love watching horror and sci-fi movies and hanging out with my wife and the pups.
How You Can Help Animals
Join the Action Team
Sign Up for PETA Mobile Alerts
Help Animals Online