URGENT: Tiny Marsupials Need Your Voice Today!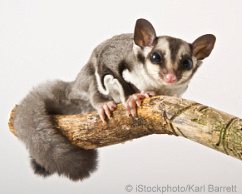 Sugar gliders are tiny nocturnal marsupials who, in the wild, live in trees in large colonies, foraging for sap and frolicking with family members. Others are bred in hellish facilities similar to puppy mills, then peddled like trinkets at malls, where they are bought on a whim. Confined to cages, roughly handled, fed improper diets, and forgotten when the novelty wears off, sugar gliders are doomed from the moment they're born into captivity. Complaints continue to pour in that Pocket Pets, a traveling kiosk that sells these animals, is appearing at numerous CBL & Associates Properties' malls across the U.S. PETA has implored CBL & Associates Properties to cancel its contract with Pocket Pets but apparently to no avail. We need your help today!
Please implore CBL & Associates Properties to do the right thing by keeping Pocket Pets out of its malls, and then forward this alert widely!
Send polite comments to:
Stephen Lebovitz
President and CEO
CBL & Associates Properties, Inc.
stephen_lebovitz@cblproperties.com
423-855-0001
CBL & Associates Properties, Inc.
CBL Center, Ste. 500
2030 Hamilton Place Blvd.
Chattanooga, TN 37421-6000
info@cblproperties.com