Urge Lawmakers to Protect Undercover Investigations in Your State!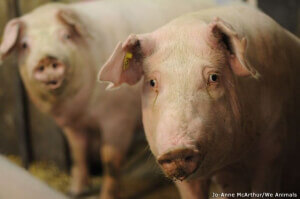 ©Jo-Anne McArthur / We Animals
Lawmakers are considering "ag-gag" bills, which, if passed, could subject whistleblowers and undercover investigators to criminal prosecution for their efforts to expose animal abuse on factory farms and in slaughterhouses. By making it a crime to film on factory farms or requiring that evidence of cruelty to animals be turned over almost immediately, these bills could stop vital undercover work that exposes routine abuse against animals in the factory farming industry. Evidence of ongoing, systematic abuse – and not just isolated incidents – is crucial in helping police and prosecutors win criminal convictions of abusers and end the abuse, once and for all. These absurd and unconstitutional bills, which infringe on Americans' basic rights, are a desperate attempt by agriculture industry giants to prevent consumers from learning the truth about the lives and deaths of animals on factory farms.
Undercover investigations have revealed torture of pigs at a Smithfield Foods supplier, disturbing abuse of pigs at a Hormel supplier, horrific conditions of turkeys at Butterball, and so much more. Don't let this important work suffer!
If you live in one of the states listed below, please click your state name to be taken to the action alert. If you do not live in one of the states listed below, please consider sharing with someone who does or taking action on one of our other important alerts. Thank you.
Because of caring consumers like you, similar bills in more than a dozen states, including Wyoming, Florida, New Mexico, Minnesota, Arkansas, California, New York, and Tennessee, have died.