Urge Ironman Triathlon to Stop Promoting Unhealthy, Cruelly Produced Chocolate Milk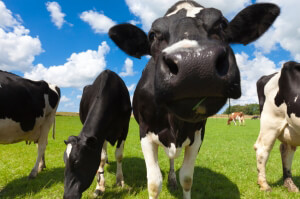 © iStock.com/Basmeelker
The Ironman Triathlon is acting irresponsibly by choosing chocolate milk as its official sports recovery beverage.
Ironman organizer World Triathlon Corporation insists on continuing to promote chocolate milk to athletes, despite learning from PETA that many of the studies touting this unhealthy substance as a recovery beverage were funded by the dairy industry itself.
We explained to Ironman CEO Andrew Messick that chocolate milk, which is chock–full of sugar, cholesterol, and hormones, is bad not only for humans but also for cows, who are likely to suffer from chronic, painful conditions such as lameness and udder infections and die a terrifying and painful death in a slaughterhouse, far short of their natural life expectancy. We also shared a video with him that shows the dairy industry's inhumane, abusive treatment of mother cows and their babies.
And with all the healthy, cruelty–free sports recovery drinks on the market, there's no excuse for promoting chocolate milk. Please send a polite letter to Messick asking him to end this cruel and unhealthy promotion.
Please send polite comments to:
Andrew Messick
Ironman CEO
andrew@ironman.com
Please feel free to use our sample letter, but remember that using your own words is always more effective.