Urge D.C. Regional Transit Authority to Ditch Glue Traps!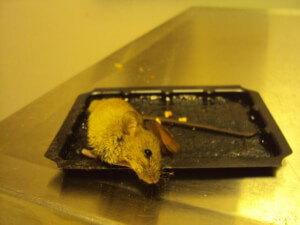 According to a recent report, the Washington Metropolitan Area Transit Authority (WMATA) in Washington, D.C., permits the cruel use of glue traps to ensnare mice and rats on its properties.
Glue traps are some of the most dreadful products on the market, causing immense and prolonged suffering. Victims often rip themselves to pieces in their frantic struggles to escape the sticky mess. Exhausted and terrified, they succumb to shock, dehydration, asphyxiation, or blood loss—and death can take days. Nontarget animals such as kittens, chipmunks, and even birds—including protected species—can also fall prey to these vile devices. Further, the Centers for Disease Control and Prevention (CDC) as well as Health Canada warn against using glue traps because of disease risks posed by the many pathogens in the waste of stressed rodents. PETA alerted WMATA officials to the cruelty and risks associated with glue traps and advised them that their use likely violates Washington's and Maryland's anti-cruelty laws, but to no avail.
Worse, the WMATA is claiming that it is exempt from cruelty-to-animals laws!
Please contact WMATA officials and ask them to ditch glue traps. And please, share this alert widely.
Send polite comments to:
Richard Sarles
General Manager and CEO WMATA
202-962-1234
rsarles@wmata.com
Please feel free to use our sample letter, but remember that using your own words is always more effective.