Urge Circus World's New Director to End Cruel Elephant Exhibits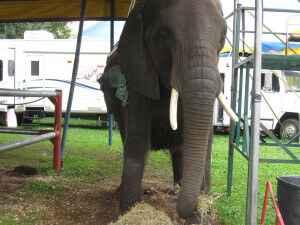 In September, the ex–vice president of the successful, exotic–animal–free Big Apple Circus, Scott O'Donnell, started as the new executive director of Circus World, a venue that has been hosting cruel and antiquated elephant exhibits. Join PETA in asking O'Donnell to take a compassionate page out of the Big Apple Circus' book and put a stop to cruel elephant acts at Circus World!
For years, Circus World has hosted notorious exhibitors with documented histories of elephant abuse and neglect. Carson & Barnes Circus, which recently exhibited elephants at Circus World, is infamous for its mistreatment of animals and its more than 100 federal Animal Welfare Act (AWA) violations. In fact, while at Circus World in August, Carson & Barnes was cited for failing to show that it had given veterinary care to a thin elephant with visible hip bones and shoulder blades. That same month, in a sworn affidavit, a citizen detailed a Carson & Barnes handler's attack on an elephant on the premises of the Kelly Miller Circus. According to the eyewitness, the handler forcefully struck the elephant with a bullhook until she screamed. And an undercover video of a Carson & Barnes training session shows trainer Tim Frisco—who still works for Carson & Barnes—viciously attacking elephants with a bullhook and electroshocking them.
Earlier this year, Hugo Liebel, dba "Liebel Family Circus"—another elephant supplier hosted by Circus World—was ordered to pay $7,500 to settle almost three dozen charges for AWA violations, most of them related to his treatment of the lone elephant Nosey. Liebel has been failing to treat Nosey's chronic skin condition adequately for two decades, and he was charged with continuing to do so, as well as for repeatedly chaining Nosey by two legs so tightly that she could not lie down or take more than a single step in any direction.
More and more people realize that elephants—who are similar to humans in terms of intelligence, emotional capacity, and social life—shouldn't be forced to travel and perform unnatural tricks. Many countries have banned such practices, as have various localities across the U.S. as well as private businesses, including arenas.
Speak up for elephants now by urging Scott O'Donnell to end cruel and antiquated elephant acts at Circus World once and for all!
Please send polite comments to:
Scott O'Donnell
sodonnell@circusworldmuseum.com
After you've taken action, please share this important information with your family and friends.
Please feel free to use our sample letter, but remember that using your own words is always more effective.