Speak Out Against Cruel Tripping Event in Las Vegas!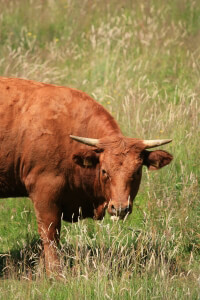 Reportedly, the Boyd Gaming Corporation is considering hosting a notoriously cruel "steer-tripping" event at its Orleans Arena in Las Vegas during the National Finals Rodeo in December. Also called "steer busting" or "steer roping," this activity involves chasing down a running steer on horseback, casting ropes around the animal at high speed, and then violently yanking the steer to the ground with a massive, spinning crash. In addition to feeling sheer terror, animals used in tripping events often sustain rope burns, abrasions, dislocations, spinal injuries, torn tendons and ligaments, and broken legs and necks. Footage of steer tripping can be seen here.
Please urge the Boyd Gaming Corporation to scrap any plans for steer-tripping events at the National Finals Rodeo, and please forward this alert widely!
Please call and e-mail:
William S. Boyd
Executive Chair
Boyd Gaming Corporation
3883 Howard Hughes Pkwy., 9th Fl.
Las Vegas, NV 89169
702-792-7200
billboyd@boydgaming.com
Keith E. Smith
President, CEO
Boyd Gaming Corporation
keithsmith@boydgaming.com