Speak Up for Big Cats and Public Safety!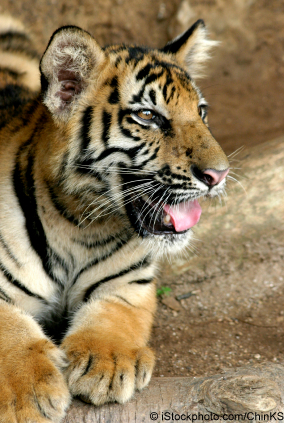 In October 2011, sheriff's deputies armed with assault rifles opened fire on dozens of "mature, very big, aggressive" lions, tigers, cheetahs, and other animals in Zanesville, Ohio, after the owner—who opened cage doors and left fences unsecured before killing himself—allowed the animals to escape. The tragedy in Zanesville is far from an isolated incident. Incidents involving big cats in the United States have resulted in more than 235 human injuries and the deaths of more than 85 cats and more than 20 people. According to news reports, in June 2013, an Indiana woman shot and killed a leopard who was roaming in her backyard. Fortunately, U.S. Rep. Buck McKeon, R-Calif., has reintroduced the Big Cats and Public Safety Protection Act (H.R. 1998), a bill that would mean unparalleled improvements for big cats who are kept as "pets" in the United States.
Today, there are no federal regulations mandating minimum standards of care for the thousands of big cats in private hands who—having grown from cute cubs into unruly, inherently dangerous predators—are confined to tiny, barren backyard cages and left to languish or for those who are sold on the black market for their skins, bones, and other body parts. The Big Cats and Public Safety Protection Act would put an end to this by banning private individuals from owning and breeding large cats. Violators would be subject to steep fines, jail time, and confiscation of animals.
For the animals' sake, take a moment now to contact your U.S. representative and urge him or her to co-sponsor H.R. 1998! You can find your representative's phone number here. Please follow up your call with a brief e-mail (you can find your representative's e-mail address here). Feel free to use the form letter below, but personalized comments are always preferred. Don't forget to share this urgent alert with your friends and family!
Please feel free to use our sample letter, but remember that using your own words is always more effective.