New York Apartments Reportedly Using Glue Traps—Again!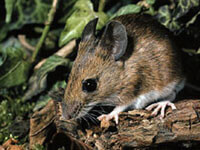 Page Apartments, located at 253 W. 15th St. in New York City, has allegedly returned to using glue traps after having briefly stopped because of public pressure. We're told that two live mice were recently found stuck and suffering in glue traps there and that improperly contained trash bags on the premises are surely enticing more rodents to their doom. PETA has implored Page Apartments to keep its promise to get rid of its glue traps and to contain its trash properly, but our requests have gone unanswered.
Glue traps are some of the most vile products on the market, causing immense and prolonged suffering. Victims often rip themselves to pieces in their frantic struggles to escape the sticky mess. Exhausted and terrified, they succumb to shock, dehydration, asphyxiation, or blood loss—and death can take days. Furthermore, the Centers for Disease Control and Prevention (CDC) as well as Health Canada warn against using glue traps because of disease risks posed by the many pathogens in the waste of stressed rodents.
Please urge Page Apartments to keep its promise to do away with glue traps. And please, forward this alert widely!
Polite comments can be sent to:
Page Apartments
sohorentals@aol.com