Urge LivingSocial to Stop Cruel Circus Promotions!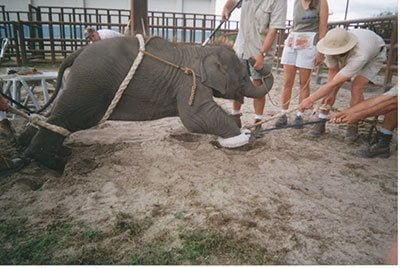 Despite receiving information from PETA about the long history of animal abuse by Ringling Bros. and Barnum & Bailey Circus, Hawthorn Corporation, and other circus companies, online deal site LivingSocial continues to promote cruel circuses through online ticket deals.
After learning about what happens to animals used in circuses, LivingSocial had previously pulled a Shrine circus deal and agreed to stop offering Piccadilly Circus deals—but the company has gone back on its commitments, recently offering a deal for a Shrine circus in Ontario that is using the Hawthorn Corporation as an exhibitor. Previous enforcement actions against Hawthorn—including multiple license suspensions, more than a quarter of a million dollars in penalties, confiscation of one elephant, and an order to relinquish custody of 16 additional elephants—have done nothing to ensure the humane treatment of the animals Hawthorn forces to perform.
LivingSocial also offers Ringling deals despite knowing that the circus has a lengthy history of animal abuse and neglect and was fined $270,000 by the U.S. Department of Agriculture for dozens of violations of the federal Animal Welfare Act. According to former circus employees, Ringling trainers routinely beat elephants and jab them with sharp, metal bullhooks in order to force them to perform. Heartbreaking photos reveal how Ringling circus trainers cruelly force baby elephants to learn tricks—and it's not through a reward system, as the circus claims.
Please contact LivingSocial's CEO and its head of communications and politely ask them to agree never to promote circuses that use animals again.
Send polite comments to:
Tim O'Shaughnessy
CEO
LivingSocial
tim@livingsocial.com
Andrew Weinstein
Head of Communications
LivingSocial
andrew.weinstein@livingsocial.com 
LivingSocial Customer Service
1-888-808-6676, extension 4 (0 for operator)