Ask Pennsylvania Property Owners' Association to Halt Cruel Bowhunting!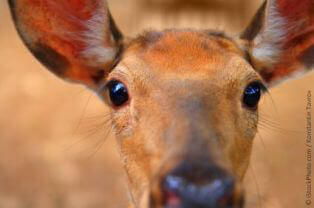 Distressed Pennsylvania residents are calling PETA because they are outraged that the Gold Key Lakes Community, a property owners association in Milford, approved the use of cruel bowhunting to control resident deer populations. PETA recently informed association officials of the extreme cruelty of bowhunting, but our concerns have apparently fallen on deaf ears.
Bowhunting is among the cruelest forms of hunting. Bowhunters often spend hours following bloody tracks before finding wounded deer. Many are not found, and their deaths are slow and painful. It can take weeks for them to succumb to their injuries. Families are then torn apart, and young and weak animals starve or die of dehydration.
Please urge Gold Key Lakes Community officials to halt all bowhunts. And forward this widely! If the neighborhood insists on deer control, please share our tips with them.
Please send polite comments to:
Jerry Goldberg, Director
Gold Key Country Club
570-686-3811
570-686-3857 (fax)
Francis Ruggiero, President
Gold Key Country Club
570-686-3811
570-686-3857 (fax)