Ask Edmonton to Let Lucy Pack Her Trunk!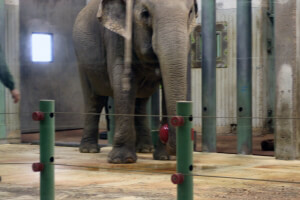 Lucy—the sole pachyderm prisoner at the Edmonton Valley Zoo in Alberta, Canada—is a highly social animal whose life at the zoo is a miserable contrast to what she would experience in the wild. Because of Edmonton's freezing winter weather and the zoo's policy of locking Lucy indoors when the zoo is closed, she spends the majority of her time in a small barn. When she is allowed outside, she is restricted to an enclosure that is less than an acre in size. In addition, Lucy exhibits signs of mental distress and has health issues, including arthritis, obesity, chronic foot ailments, and respiratory problems, all of which are the result of the substandard and inadequate conditions at the zoo and are further aggravated by the region's frigid climate.
The city of Toronto recently agreed to release the elephants at its city zoo to a sanctuary by the end of 2012 and also formally urged Edmonton to do the same with Lucy. This is a huge step forward, and it's time for Edmonton to follow Toronto's example!
In January 2007, elephant biologist Winnie Kiiru identified the Edmonton Valley Zoo to be the worst zoo in Canada for elephants. PETA and Zoocheck Canada have been campaigning to convince the city of Edmonton to release Lucy to a sanctuary. The zoo's African elephant, Samantha, had the good fortune to be transferred to a more appropriate facility, but more than five years later, Lucy—a 38-year-old Asian elephant—remains alone and ailing. Beloved TV host Bob Barker, Montréal native William Shatner, and retired NHL player Georges Laraque have all urged the city to move Lucy to a sanctuary.
After enduring decades at the Edmonton Zoo, Lucy deserves a dignified retirement. The only way to ensure that Lucy's suffering doesn't continue—and that her health conditions don't eventually kill her—is to transfer her to a sanctuary. The PAWS sanctuary in California—the same sanctuary where the elephants from the Toronto Zoo are headed—will offer Lucy ponds for bathing, fresh vegetation, foraging opportunities, the company of other elephants, and the freedom to roam over many acres of natural habitat.
The City of Edmonton Is Violating the Law
Although the Government of Alberta's Standards for Zoos states that animals must be kept in appropriate social groupings, Lucy has been alone for more than three years. In addition, Alberta's Animal Protection Act states, "No person shall cause or permit an animal of which the person is the owner or the person in charge to be or to continue to be in distress." Four renowned elephant experts have each unequivocally stated that Lucy is suffering and is deprived of any semblance of a normal life and that the conditions at the zoo causing Lucy's illness and distress will only continue to exacerbate her health problems if she is not transferred to a sanctuary.
Please urge Mayor Don Iveson and the Edmonton City Council to do whatever is necessary to get Lucy relocated to a sanctuary and to close the zoo's elephant exhibit permanently.
Please send polite comments to: