What are "ag-gag" bills?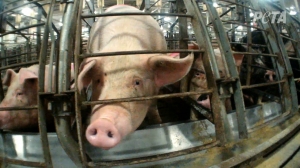 Over the last few years, as more and more consumers have become concerned about the rampant abuse of animals on factory farms and in slaughterhouses, the agriculture industry has fought back by pushing "ag-gag" bills through legislatures across the country. These bills are designed to shut down crucial, lifesaving undercover investigations in one or more ways, including the following:
Banning the documentation and/or exposure of abuse on factory farms
Making it a crime for an investigator to secure a job at a factory farm
Preventing an investigator from documenting abuse as systematic and ongoing—which is crucial in helping officials build the strong case they need to end the abuse once and for all
As the U.S. Department of Agriculture looks to cut back on slaughterhouse inspectors and because there are already no government inspections of factory farms for cruelty violations, undercover investigations are becoming more and more crucial to law enforcement. PETA has worked hand in hand with state and local authorities to secure landmark criminal charges and convictions against abusers across the country who have been caught beating, sexually abusing, stomping on, kicking, and throwing animals—abuse that was not ended by management when reported.
What is PETA doing to protect undercover investigations?
With the help of a range of personalities—including Cloris Leachman, Katherine Heigl, lifelong Republican Bob Barker, and Republican strategist Mary Matalin and her Democratic husband, James Carville—and the voices of thousands of other concerned citizens, we've defeated "ag-gag" bills in more than 15 states, including California, Kentucky, New Hampshire, New Mexico, New York, and Wyoming. In Tennessee, after hearing from Matalin as well as country icons Emmylou Harris and Carrie Underwood, Gov. Bill Haslam recently vetoed one "ag-gag" bill, which the state attorney general's office had called "constitutionally suspect."
Which states have "ag-gag" laws?
Despite these victories, the agriculture industry has managed to push "ag-gag" bills through in a handful of states, including in Kansas, North Dakota, and Montana in the early 1990s and in Iowa, Utah, Missouri, and Idaho in recent years.
PETA has continued to defend crucial undercover work by filing lawsuits challenging these unconstitutional laws in both Utah and Idaho.
What can you do to help?
There are currently no "ag-gag" bills pending, but keep an eye on this page for updates on bills as they are introduced. In the meantime, the best way you can spare more than 100 animals every year a life of misery on a cramped, filthy factory farm and a painful death at the slaughterhouse is to try out healthy, compassionate vegan eating!