5 Ways to Help Animals on Earth Day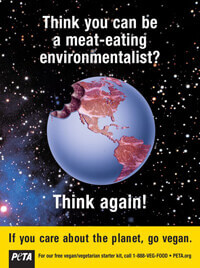 Earth Day (April 22) is an international day when people raise awareness for the Earth, but did you know that you can help not only Mother Nature but also animals on Earth Day? Here are five easy ways to help animals this Earth Day:
1. Write a letter to the editor. Next time you see an article about Earth Day in your local newspaper or in a magazine, write a letter to the editor letting people know about the correlation between factory farming and helping keep the Earth clean. We have a Guide to Letter Writing with tips and suggestions.
2. Sharing is caring. Share PETA's "Meat's Not Green" video on Facebook and Twitter! Let everyone know about how the meat industry damages the environment as well as about the suffering that animals endure because of the cruel practices on factory farms.
3. Go faux. Not only is raising animals for fur poisoning our waterways with the hazardous waste from the processing of pelts, it also pollutes the air by releasing ammonia. Furs are packed with chemicals to keep them from decomposing, which pollutes the environment and wastes the Earth's resources. Pledge to be fur-free and stick up for the Earth by helping to keep her clean.
4. Educate others. Grab a friend and hit the streets with some of our "Meat's Not Green" leaflets at your local Earth Day festival or any event in your city where a crowd of people will be around. Order leaflets directly from our site and check out our leafleting tips, and you'll be on your way to raising awareness of the correlation between the environment and factory farming.
5. Go vegan. Raising animals for food currently takes up 30 percent of the Earth's entire land surface, and it takes up to 13 pounds of grain to produce just 1 pound of animal flesh! Eating meat is destroying the planet, but there is a quick and easy solution: Go vegan! By going vegan, not only will you be helping animals and your health, you'll also be giving Mother Nature something to smile about.
Are you already vegan? Encourage your friends, family, and coworkers to help animals by asking them to take PETA's Pledge to Go Vegan for 30 Days.
Want to help animals on more than just Earth Day? Join our Action Team, and we'll send you e-mail alerts on ways that you can help animals as well as alerts about local demonstrations that you can participate in!