Online Marketing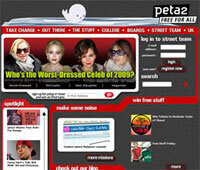 We formed PETA's Marketing Department over the course of three years on the heels of the incredible success of our peta2 program. We wanted to take what we had learned about online and word-of-mouth marketing from peta2 and apply it to all our work at PETA so that we could reach out to and create lasting relationships with as many people as possible.
We've had wonderful success harnessing the power of word of mouth by making sure that the content on our Web sites evokes such strong emotions that people feel compelled to tell their friends, families, and colleagues about it. Through quirky and unique e-cards (such as our holiday snow globes, featuring send-ups of Michael Vick, Kate Moss, Dick Cheney, and others), online games (such as the wildly popular Super Chick Sisters anti-KFC game), and viral videos (such as our Alicia Silverstone vegetarian testimonial, which, with more than 150,000 visits, brought more traffic to our site in one day than anything before it), we've led millions of people to our Web sites.
We also ensure that our sites reach new people through paid advertisements on blogs and through search terms on Google and Yahoo. We've also had great success pitching our content to blogs and other Web sites for free placement. Not surprisingly, bloggers find PETA's "I'd Rather Go Naked" ads irresistible.
Once we've reached new people, our e-mail marketing program maintains and solidifies our relationships with our more than 1 million subscribers through weekly e-news and other e-mails, ensuring that our supporters come back to our Web sites, help fund our programs, spread the word, and become and stay active for animals.
And marketing wouldn't be marketing without the continual evaluation of campaigns. Everything we do is tracked and analyzed to ensure that we're as effective as we can possibly be.