PETA Butter Case Study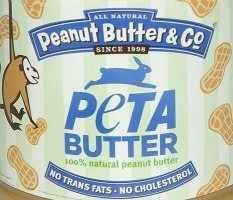 PARTNER
Peanut Butter & Co. (www.ilovepeanutbutter.com)
SITUATION
Peanut Butter & Co. is a fun New York–based company that sells quirky flavors of peanut butter at its downtown New York City restaurant, on its website and other e-commerce sites, and via brick and mortar retailers such as Whole Foods and Target.
Aligning with PETA was an opportunity for Peanut Butter & Co. to build brand loyalty with vegan and vegetarian audiences as well as gain visibility with PETA's 5 million members and supporters. Supporting PETA's 30th Anniversary Gala and Humanitarian Awards (September 2010) at the Hollywood Palladium also provided the company with awareness among PETA's prestigious community of celebrity advocates.
THE PETA SOLUTION
In support of Peanut Butter and Co.'s interest in building loyalty within the vegan and vegetarian community, a limited-edition co-branded PETA Butter was developed to raise awareness about PETA's vegetarian outreach and to encourage people to sign PETA's "Pledge to Be Veg."
The PETA Butter campaign was supported by an aggressive online marketing push in addition to a promotional plan that included getting the product in front of PETA members, donors, and celebrity supporters. To accomplish this, PETA Butter was featured in 1,300 gift bags at PETA's 30th anniversary gala.
To launch the multi-tier online marketing campaign, e-mail blasts went out to more than 500,000 of PETA's e-news subscribers in early September. PETA Butter was also featured on PETA.org, Peanut Butter & Co.'s homepage, both PETA's and Peanut Butter & Co.'s many social-media networks, and several PETA blogs, including The PETA Files, PETA Living and peta2. PETA's social-media marketing alone reached more than 900,000 fans on Facebook and more than 100,000 Twitter followers at several touch points during the campaign.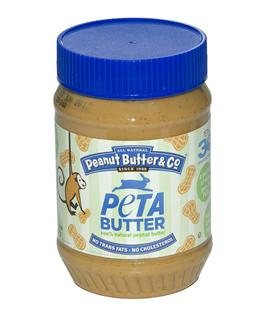 PARTNERSHIP RESULTS
Sales of PETA Butter wildly exceeded expectations. Peanut Butter & Co. sold out of all jars in fewer than 30 days. PETA Butter was picked up by more than 1,500 national press outlets and industry blogs and was even featured on NBC Nightly News with Brian Williams!
PETA and Peanut Butter & Co. are exploring future opportunities to expand the program in 2011. Partner with PETA today!