The Fabulous Life of a PETA Intern: Megan Brunning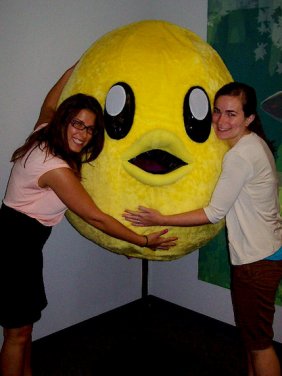 The following testimony was written by Megan Brunning about her experiences as a PETA intern during the summer of 2010.
It didn't take long for me to realize that interning for PETA was one of the best decisions that I've ever made. I was super nervous when I arrived on the first day, but as soon as I met PETA staffers and the other interns, I was blown away by how quickly we connected. Never before have I been surrounded by people who are so dedicated to compassion. I guess that you can form bonds pretty quickly when you share a value so fundamental: respect for all life.
While spending so much time together, whether at work, outreach events, or after hours, we interns had countless opportunities to discuss our thoughts on animal rights, brainstorm how we can promote compassionate living, and, of course, eat lots of crazy-awesome vegan food. Words can't say how lucky I feel to have spent the summer with such hard-working, selfless, and passionate people—and I still keep in touch with them. A group of great friends who will do anything for animals is just one of the priceless assets that I gained while interning at PETA.
As one would expect, I also really honed my activism skills. Working on research projects, I learned to find information quickly and compile it efficiently. I made phone calls and wrote letters to companies and even researched vegan-friendly restaurants. Interns get the opportunity to attend training sessions with topics ranging from effective outreach strategies to caring for companion animals. I now have a good idea of what to do and who to call in almost any situation involving helping an animal.
The type of activism that I learned the most about was outreach—my favorite! I was able to spend two whole weeks in Washington, D.C., participating in approximately two outreach events a day. Sometimes I handed out leaflets about the cruelty of the fur industry, and other times I handed out free veggie dogs or soy ice cream sandwiches, with vegetarian/vegan starter kits full of information and to-die-for vegan recipes! I was always amazed by how many people, when taking a leaflet, thanked me for the work that I was doing for animals. Outreach can be one of the most rewarding forms of activism because every once in a while, you will witness a change in someone's way of thinking.
In my daily life, I get questions all the time about why I'm vegan or why I think that standing up for animals is important. Outreach events during my internship gave me the best practice at answering all these questions. I got everything from "Is it hard to be vegetarian?" to "Is breast milk vegan?" As a result of getting so much practice, I can tell you pretty quickly that my answers are "No way!" and "In my opinion, yes." Now that I am back home, I have no trouble answering questions that my friends and family ask, and when the opportunity arises to do some local outreach, I jump at the chance!
My internship experience really changed my perspective on what I can and should do to help animals. Before my summer at PETA, I would have been scared to hand out leaflets to strangers and talk to them about animal rights. I'm fearless now because I've seen how easy and rewarding it is. So many times in the PETA office, I heard some variation on this sentence: "What we go through can never be as bad as what the animals experience." When you think about the horrible cruelty that so many animals suffer, handing a piece of paper to passersby really pales in comparison. This frame of mind has given me so much courage, motivation, and determination to help animals as effectively as I can.
It may seem like just knowing about the suffering that animals endure would be a big downer. Before I came to PETA, I was indeed worried that thinking about animal suffering all the time would turn me into a bitter, angry, and depressed person. But to my surprise, working at PETA had the opposite effect. I mentioned earlier that I have never known people as dedicated to compassion as PETA staffers and my fellow interns are. Everyone I met works with immeasurable energy, determination, and dedication to make the world a better place for animals. I couldn't help but gain a highly optimistic outlook for animals' future. How could you be anything but optimistic when PETA keeps winning victories for animals and has a never-tiring work force of ordinary people who will do extraordinary things for animals?
If you are thinking about interning for PETA, here's my advice: DO IT! I couldn't be more grateful for my experience interning at PETA. I gained so much: lifelong friends, knowledge and skills to continue helping animals, courage to always speak for those without a voice, and most importantly, confidence in a bright future for animals. As a result of my internship, I am better equipped to help create that bright future. Let PETA help you become a more effective activist, and help countless animals in the process!