The Fabulous Lives of PETA Interns
The following testimony was written by Jared Misner about his experiences as a PETA intern during the summer of 2010.
So, you want to be a PETA intern?
This is a good start. By taking the first step in finding out what to expect from an internship at the largest animal rights organization in the world, you're practically on your way to saving animals every day.
I just finished a two-month internship at PETA's headquarters in Norfolk, Va., so I'll be your go-to guide for all this to help you learn more about "The Fabulous Life of a PETA Intern."
Trust me when I tell you that it was the best experience of my life, and that sentiment covers all the awesome research projects that I got to work on as well stripping down to my underwear on Pennsylvania Avenue to help save seals.
We'll get to that last part a little later.
Interning at PETA will give you the chance to bring your own ideas to meetings and brainstorming sessions and watch them develop into actual PETA campaigns and initiatives. For example, I suggested that a Delaware ice cream parlor that serves booger-flavored ice cream should also offer not-so-appealing flavors of soy ice cream. That's the beauty of working for a nonprofit organization! Your ideas are valued just as much as anyone else's.
Not only will you get to pitch your ideas at meetings, you'll also get to work on awesome and critically important research projects. Some of the projects that I worked on during my two months included making calls to actual fur farms and monitoring the event schedules of certain national fast-food restaurants to make sure that our events coincided with theirs. Your work as an intern is vital to PETA's success, and the research that I did helped save many animals' lives.
But one of the best things about interning at PETA is that you can make your internship what you want it to be. I'm in the journalism school at my university, so PETA tailored my internship to focus on my field of study. I spent time working in the Communications and Marketing departments, and I continue to write a vegan living Web log and serve as an administrator for PETA's Facebook page.
And should we even talk about the amazing food at PETA?
Where else do you not have to worry about checking labels or asking about ingredients? It was such a relief just to know that the cupcakes and pasta served at the semi-frequent office potlucks were vegan.
You'll also have the opportunity to create your own "vegan bubble" during your internship, making some of the best friends you could ever ask for. Yes, it's super cheesy, but it's true—there's so much vegan love in the office.
The only bad thing about my internship at PETA was that I eventually had to leave. Saying "goodbye" to some of the most dedicated people I've ever met and people I had made once-in-a-lifetime connections with was difficult. But it's always reassuring to know that there are people across the country and around the world who share my belief that animals are not ours to eat, wear, experiment on, or use for entertainment.
Oh, there's one more thing: You might get to stand in your underwear, painted like the Canadian flag, on Pennsylvania Avenue in front of the Canadian embassy to protest Canada's annual seal slaughter, in which thousands of seals are bludgeoned to death for their fur every year.
If you find another internship that will let you do that, let me know.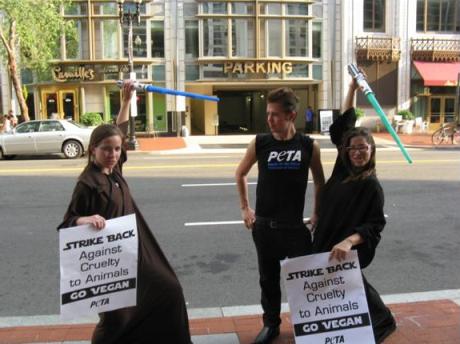 The following video was made by Michaela, a PETA intern.